What: Project coordination change at INES Rwanda
Where: Institut d'Enseignement Supérieur de Ruhengeri, Rwanda (INES)
When: 16 October 2017
Who: Placide Nkerabigwi and Jossam Potel  replace Mereille Biraro as new its4land contacts at INES
Why: Mireille Biraro, its4land contact at Institut d'Enseignement Supérieur de Ruhengeri, Rwanda (INES) has handed over her tasks to Placide Nkerabigwi and Jossam Potel as she decided to pursue her PhD studies in Bahir Dar University. We wish here all the best!

Eng. NKERABIGWI Placide is 41 years old and born at Nkotsi-Musanze, District Musanze in Rwanda. He holds a Master's degree in Geomatics and surveying from University of  Liège, Belgium; and Bachelor's degree of Civil Engineering from National University  of Rwanda (NUR). He is currently the Assistant lecturer and Head of department at INES-Ruhengeri in Land survey department, teaching the modules of Surveying and Engineering surveying in undergraduate program.
He has a good professional experience in conducting geomatics and civil engineering related projects and activities. His current interests of research are mainly oriented in GIS design, Urban planning and land management; he supervises the students' research projects of undergraduate level. He is actually interested in topographic mapping using unmanned aircraft vehicles (UAV) for which he has attended different trainings under the sponsorship of its4land research project.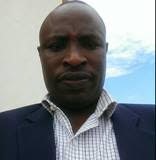 Ir. Jossam POTEL holds a Master of Science in Geo-Information and Earth Observation with Specialization in Land Administration, from the University of Twente, The Netherlands, and Bachelor's Degree in Law from the University of Rwanda. He is currently a Lecturer and Head of Department of Land Administration and Management at INES-Ruhengeri in the Faculty of Applied Fundamental Sciences, teaching Land law and tenure systems, Property rights and the Commons, Evaluating Land Administration systems, Negotiation and land dispute resolutions. He has valid experience in the field of land administration and management programmes. Having worked with Rwanda Land Management and Use Authority for over 9 years gives him a strong awareness of the issues associated with land reform and land tenure regularization as well as the broader political and economic drivers of land in Rwanda as well as institutional frameworks. He has been a visiting Lecturer for four years before joining INES-Ruhengeri as a permanent staff.
Their contacts are the following:
Potel Jossam: email: jossam2003@ines.ac.rw
Placide Nkerabigwi: email: nkerplac@yahoo.fr