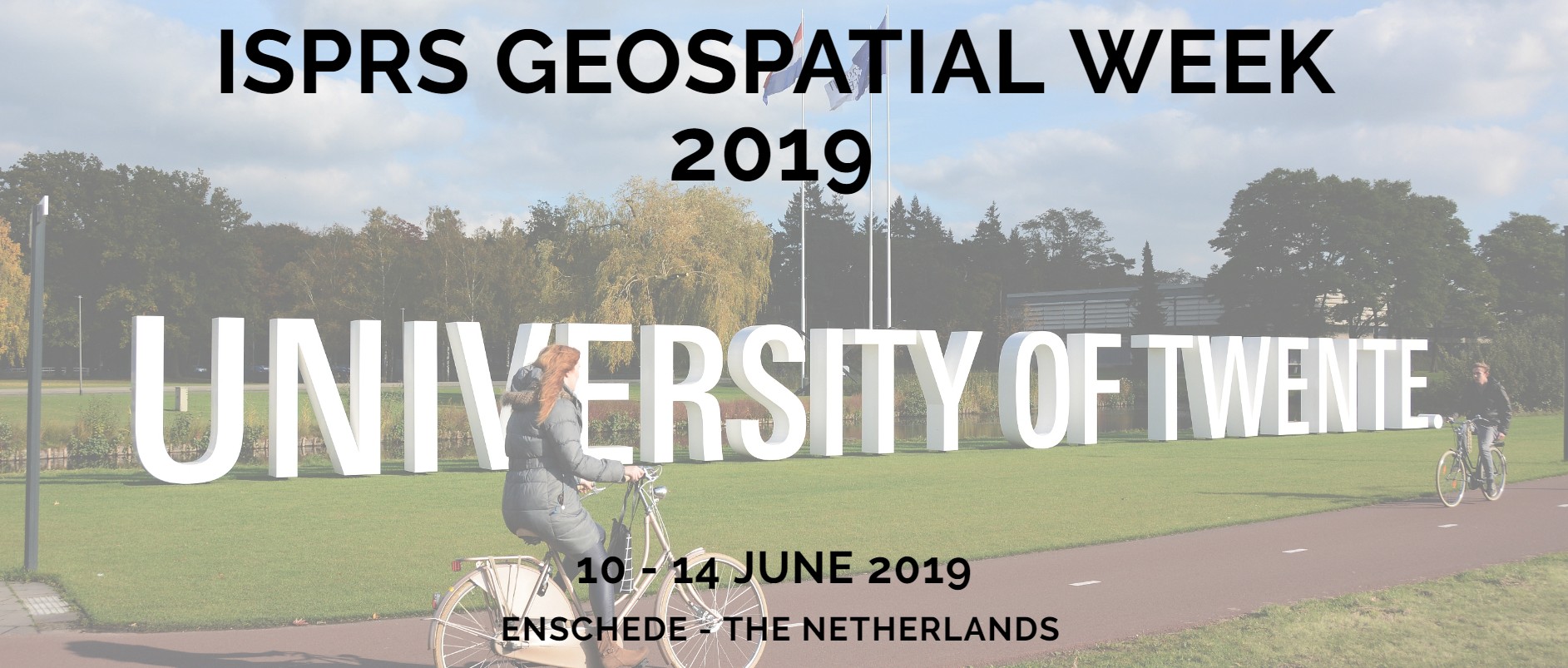 What:  ISPRS Geospatial Week 2019
Where:  Enschede, The Netherlands
When: 10-14 June 2019
Who: Malumbo Chipofya, Sahib Jan, Angela Schwering (University of Münster, Germany), Tarek Zein, Christian Timm (Hansa Luftbild, Germany), Kaspar Kundert (ESRI, Rwanda), Joep Crompvoets (KU Leuven, Belgium), Mila Koeva, Claudia Stöcker, Sophie Crommelinck and Chiel Stroeven (ITC, Netherlands)
Why: On 10 to 14 June 2019 the ISPRS Geospatial Week at the University of Twente in Enschede, The Netherlands, took place. The its4land project consortium used this conference to officially launch the its4land Land Administration Toolbox. This toolbox contains six tools which could be marketed and commercialised to help the land administration communities in the developing countries.
About the Geospatial Week (GSW)
The ISPRS Geospatial Week is a unique combination of workshops aiming to promote international cooperation and knowledge exchange in the field of geospatial science and technology. This year, the event was held from 10 to 14 June in Enschede, The Netherland. It was organized by the Faculty ITC, University of Twente, in the University campus, which is a pleasant environment with modern facilities and green surroundings suitable for indoor and outdoor discussions.  The event gathered around 750 experts, scholars, and users from all around the world. The 13 workshops jointly organized with the members of the ISPRS working groups run in parallel, but there was quite a regular distribution of people in the rooms. A huge variety of topics were covered starting from classical photogrammetry and remote sensing using images and point clouds obtained from different platforms and sensors and ending with the very trendy use of the machine and deep learning techniques. The fact that the fifth edition of the UAVg was part of the Geospatial Week significantly contributed to the number of participants since the interest in unmanned systems and their applications is very high.
About its4land at the GSW
During the workshop, the unique its4land land administration toolbox in which the exploitable results of the its4land project are integrated was presented. The toolbox contains software tools for recording land tenure information based on hand-drawn sketch maps, UAV-driven workflows for land tenure data acquisition, and semi-automatic and interactive delineation of visible cadastral boundaries, all integrated in a software platform to publish and share land information via geocloud services. The toolbox also combines consultancy services in the field of needs assessment and governance and capacity building models for innovative technologies.
The its4land progamme at the GSW
Before lunch break
Overview of EC project and its4land – Mila Koeva (ITC)
its4land toolbox, what it is and what it covers – Tarek Zein (Hansa Luftbild)
Consultancy services for needs assessment and governance and capacity modeling – Joep Crompvoets (KU Leuven)
UAVs for land administration – Claudia Stöcker (ITC)
Smart sketchmaps – Malumbo Chipofya and Sahib Jan (University of Münster)
After lunch break
Automated Feature Extraction – Sophie Crommelinck (ITC)
Publish and share – Christian Timm (Hansa Luftbild)
We invite you to: